THE 2021 SCHOOL SHADE SAIL GRANTS PROGRAM HAS NOW CLOSED…
CHECK ANY OTHER ANNOUNCEMENTS FOR OTHER PROGRAMS ON OUR HOMEPAGE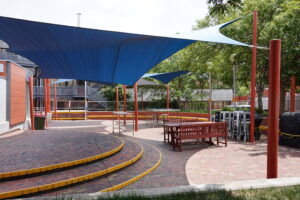 The School Shade Sails fund provides funding to schools for shade development to facilitate outdoor learning.
The aim of the fund is to help schools maximise their outdoor learning areas and environments by creating safe and shaded outdoor learning spaces in schools to help prevent the spread of coronavirus (COVID-19).
This compliments the existing Department of Health shade sails program.
Projects are ineligible for this funding if:
Shade sails go over playgrounds or play equipment
Funding is sought to repair or replace an existing shade sail
The shade sail does not support an outdoor learning space
Expressions of interest can be submitted on the below web page:
https://vsba.smartygrants.com.au/School_Shade_Sails_Fund_Round_1
Once your registration has been approved, you will need to obtain one quote within four weeks to receive the funding. Registrations close at midnight on 22 October 2021.
The team at Peninsula Shade Sails are here to help discuss your design concepts, provide quotes, diagrams and assist you with any questions you may have.
Please click the following link for a quote: https://www.peninsulashadesails.com.au/contact-us-peninsula-shade-sails/