What is the Triax Shade System? 
The Triax system is a series of alumium componentry that allows two crossing pipes to be joined together permanently, without welding, without special tools and without the need to rely on precision critical measurements.
The Triax system solves common design, manufacturing and installation problems often associated with waterproof shade structures. The system is simple to use and gives the architect, builder, designer or installer freedom to deliver bespoke designs according to the needs of the project.
Triax structures can be wall-mounted, roof-mounted or freestanding on posts. The tension of the membrane cover is not transmitted to the mounting points, instead being contained within the frame itself. This means that unlike with traditional membrane covers, the structural integrity of existing buildings is not compromised by the addition of a Triax structure.
The Triax system is so adaptable, difficult site restrictions can be overcome and minor design modifications can be adopted when they occur.
Anything from gutters, drop blinds and heaters to lighting and ventilation can be added to structures with the Triax system. In many cases, wiring can be fully concealed by running it within the structural members themselves.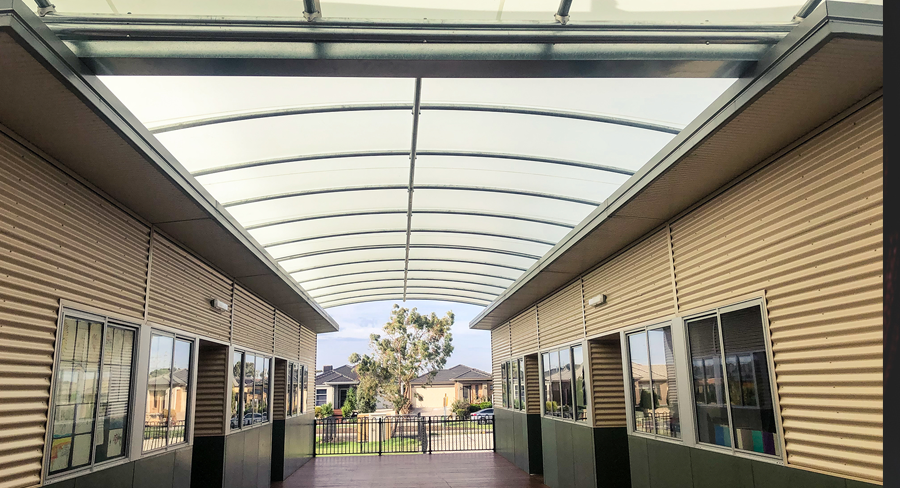 The heart of the system is our original multipurpose T50 bracket for use with standard 60.3mm (50NB) steel tube. Two T50s placed back to back form a joint which is free to rotate in three axes and be permanently fixed in any position. A full range of components are available to complement and expand on this original innovation, offering a complete solution to create a highly refined and professional final product.
Allowing structural members to be permanently joined at any angle, on site, without welding, Triax structures can be custom tailored and built with exacting precision in a fraction of the time and with none of the hassle of a fully welded or prefabricated structure. With our easy guidelines, anyone can design a robust custom structure ready to be wind rated and certified.
Triax Shade Structure Gallery