Peninsula Shade Sails – Get in touch
Please fill in the form below and we will get in touch with you as soon as possible.
Please provide as much information on your shade project as possible so we can provide a faster and more accurate response.
Why do we request the property address to provide a quote?
At Peninsula Shade Sails we are always looking to use the latest technology to provide better service to our customers. This is true both in our sophisticated CAD shade sail design software and also in our quote process.
As part of our quotation process use a sophisticated mapping software from NearMap to assist us with providing desktop based quotes. These preliminary quotations can be turned around within 24hrs. These quote images can provide relatively accurate dimensions and can be marked up to show shade sail post locations. This software uses frequently updated aerial imagery to provide both vertical and panoramic views so that we can develop a detailed sense of the property and potential shade structure location.
Please see a sample image below of a caravan park jumping pillow in need of some shade. This jumping pillow was located in regional victoria however, our client had a quote for a hip and ridge shade structure within a matter of hours. This allowed them to factor this shade project into the future financial planning of their caravan park.
We appreciate your cooperation and look forward to helping you find the perfect shade sail for your needs!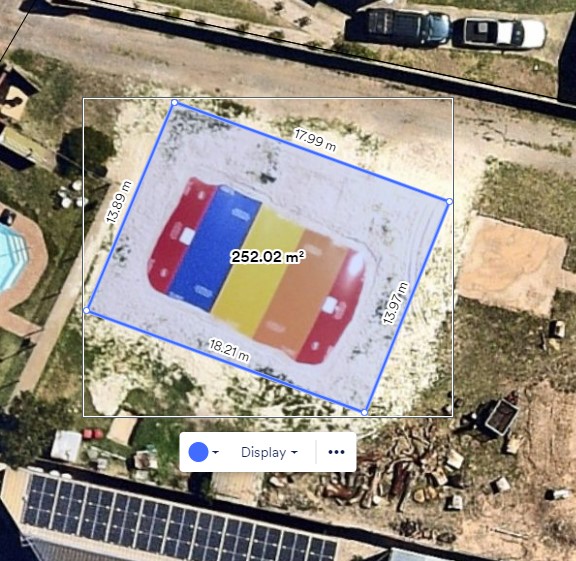 Address:
36 Denham Road, Tyabb, Vic, 3913