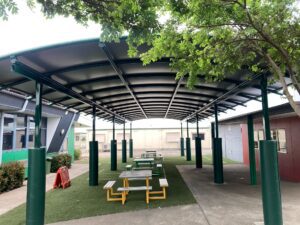 School Shade Sail Grant Program – Good News Lutheran College
Project: Triax Barrel Structure
As part of the School Shade Sails Fund Program implemented by the Victorian Government, Good News engaged Peninsula Shade Sails to manage their shade sail fund project, from the design process through to installation. ⁠
Keeping in line with the program's guidelines we worked closely with Good News to construct a shade structure to maximise the use of their outdoor learning area by creating a safe and shaded outdoor learning space.
Using versatile Triax systems as an effective alternative to traditional structures, we were able to provide additional coverage while ensuring high UV sun protection as well as rain protection in the Winter months. The construction was engineered specific to the site and comprised of the following components:
Power Coated structural steel framing
Alloy Triax connectors
Architectural grade PVC canopy
High-density foam safety post pads
The finished structure looks smart and polished, fits in perfectly with the school's aesthetics, and most importantly provides Good News College with a high quality and practical solution which can be utilised for outdoor learning all year round.
An extremely rewarding experience for all involved!
Useful Links
Triax Systems:
https://triax.com.au/
Safety Post Pads
https://www.peninsulashadesails.com.au/products/post-safety-pads/